MR BONES RELEASED 1 MARCH 2017
HYENA –  MR BONES – 3 WEEKS of confinement, care and fattening up !!
See the KAWFT face book for video updates – the last few days videos still to be posted.
DAY 5 – 12/2/17
Skinny bean. Ate a kg of liver during the night ON HIS OWN, drank a litre of milk and water and was sitting FOR THE FIRST TIME on his haunches in the morning and early evening when it is normal wake up time – STANDING and moving on wobbly legs, drinking plenty of water/mild mix and carefully eating his way through his chopped up meat.
Battles to chew if the pieces of meat are not cut into slithers due to the weeks of the large wire cable in and across the back of his jaws. So, a delicate eater at the moment but the daily improvements to his health and strength are momentous.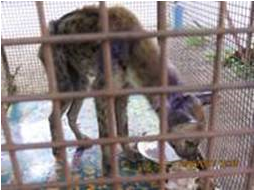 DAY 7 & 8 – 14&15 /2/17
Smelly shredded fun foam out and grass in. Not so much fun but cleaner and comfy. Improvement continues. Copious amounts of water drinking all the time, good re-hydration and eating well.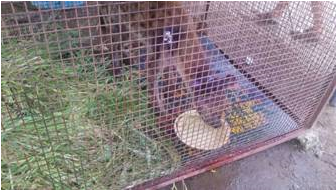 DAY 8 – 15/2/17
Improving in leaps and bounds but has a long way to go before fit for release.  Does not want to wake up. Cool afternoon and nice and soooooo comfy.
DAY 10 – 17/2/17
Back, pelvis wound where all the maggots were !!! healing very well despite the way it looks.
DAY 17- 24/2/17
Fat belly and amassing weight. Large chunks of meat now, that he rips apart himself
DAY – 18 & 19
Photos taken of main wounds and sent to Dr's Keith Dutlow and Lisa Maribini Aware Trust – to ascertain if all well enough to take this boy back home !!

DAY 22  1/3/17– HOMEWARD BOUND !! patient discharge day.
Cage with Mr Bones loaded onto the trailer.  Parks Rangers No.2's –  Nicholas Chinembiri and Edward on site.
Cage covered with old sheets to avoid too much stress for him whilst travelling out of the Kariba area.
Mr Bones – as Hyenas do – shreds the sheets in no time and then manages to get under the steel sheet on the floor of the cage.
Convoy comes to a halt whilst everyone assists to lift the steel sheet up and secure it up with wire, keeping fingers outside of the cage !!!
Cage lifted off ….. every ones fingers still intact !

The door to freedom opens and he just sits !!
Another vehicle arrives and whilst we are trying to halt the vehicle so it does not drive into Mr Bones when he walks out the cage ………………………….
He makes a high-speed dash for it and this is the only photo we luckily managed to get  !! A FLASH IN THE DARK and he is gone.
First run he has had in 3 weeks.. !!
Please keep a look out for Mr Bones, his scars will be a sure ID of him and we would appreciate any feedback and photos if possible. (see contact details bottom)   Next year we may even see his progeny – little bones.

Thank you to
Parks Area Manager and Rangers,
Aware Trust Vets
Kariba Residents – reporting and help
KAWFT team
and all those that assisted with the rehabilitation of this boy
        DONATIONS & assistance very kindly received_and much appreciated – THANK YOU
Amazing response to our plea for assistance – from within Kariba, Zimbabwe and afar.
We will be putting in place, first a critical rehabilitation unit – where the likes of Mr Bones would "get well" and then another for the likes of the snared young Lion for a few days recuperation to make sure all is well before heading back into the wild.
This is only due to the amazing support received and that we are still receiving.
HUGE assistance to the Rehab Units to be built.
DONORS – MEAT + TRANSPORT OF MEAT FROM HARARE, ETC.
LISA CURRIE – Meat
KOALA PARK Butchery – Meat
COLIN RIDDELL – Meat
SOUTHCOTE – Meat
CRISPY FRESH – Transport
J HARVEY BROWN
G HOWES
J EVANS
C BODDY
N RENNIE
D FYNN
N BLYTH
B COCKCROFT
J BISS
C WALESSMITH
S SHORT
L NGULUBE
J OOSTHUIZEN
R KASEKE
S J HAMMOND
D N ERASMUS
NA & RL HOWLAND
DEOCHEM P/L
K A KRISTIANSEN
A J NIGHTINGALE
WARD FAMILY
MRS TOWNSEND
S STONE
SAVE FOUNDATION
S LOREJO
For any donations, help offer, more info, or information on injured animals or incidents with Wildlife please contact below
Phone numbers
Sonya Mc Master  0772 874 352 – KARIBA
Debbie Ottman  0773 996 487- KARIBA
Dick Mc Cowan Hill 0772 600 187 – KARIBA
WHATSAPP  NUMBERS -for photos or messages
Debbie Ottman 0784 512 921
Sonya Mc Master 0778 733 784
Tracey Bruk–Jackson – Harare representative
(contact for donation drop offs etc.)
Whats app 0771 567 032
Phone number 0712 205 384
FACE BOOK –  www.facebook.com/KaribaANimalWelfareFundTrustKariba
DONATION PAYMENT OPTIONS
ECO CASH REGISTERED NUMBERS for donations below
Sonya Mc Master (Registered Name – Stroebel) 0772 874 352
Debbie Ottman  0773 996 487
CABS PAYMENTS:
CABS KARIBA
ACC NAME – KARIBA ANIMAL WELFARE FUND TRUST
ACC No: 100 265 7636
Report injured animals, suspected poaching etc – contact details
PARKS & WILDLIFE
ZIMPARKS AREA MANAGER  –  Mr D Sithole – 0775 971 799  
ZIMPARKS SENIOR RANGER – Nicholas – 0772 762 500
Toll free – ZIMPARKS AREA MANAGER –  Mr D Sithole – 0738 813 441
KAWFT
Sonya Mc Master  0772 874 352 – KARIBA
Dick Mc Cowan Hill 0772 600 187 – KARIBA
Debbie Ottman  0773 996 487– KARIBA
WHATSAPP  NUMBERS -for photos or messages
Sonya Mc Master 0778 733 784
Debbie Ottman 0784 512 921
https://www.colindurrant.co.uk/wp-content/uploads/2017/03/hyena2.fw_.png
190
336
Colin Durrant
https://www.colindurrant.co.uk/wp-content/uploads/2017/11/gloriosa_rothscildianna.jpg
Colin Durrant
2017-03-04 10:22:29
2018-02-25 19:45:04
Hyena Release Update – Kariba