$40m lost to bank queues every month as ZRP (Zimbabwe Republic Police) fines gobble 76% of the withdrawn cash.
About $40 million is lost every month as wages paid to unproductive workers who spend most of their time in bank queues as a result of the incessant cash shortages while most of the withdrawn money is spent on police fines, a new report by the Industrial Psychological Consultants (IPC) shows.
The 2017 IPC research, Productivity losses as a result of Bank Queues, was designed to find out productivity loses caused by bank queues currently being experienced countrywide as the government struggles to contain an acute cash shortage.
A total of 1 062 people, 62, 3% male and 37.7% female, participated in the survey.
According to the report, 76,98% indicated that they use a bank account to receive their salaries, 2, 23% for savings while 17,35% said they used their accounts to pay expenses with 3,44% not specifying what they used the accounts for.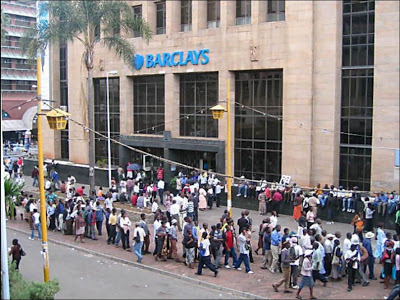 The respondents said they visited banks instead of using other forms of payment because of landlords who demand cash, to pay for transport, domestic workers who do not have bank accounts, service providers and shops in town who demand cash only and for children's pocket money.
"On average, employees are spending 2, 5 hours every time they visit the bank every week," the report noted.
"This roughly translates into $40 million lost in wages paid to employees who are not productive every month using a median wage of $520 per month."
The report noted that if the cash shortages continue at the current rate more money will be lost every year through unproductive wages.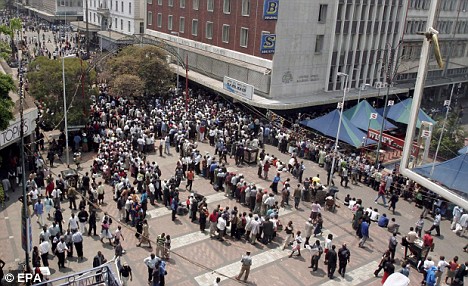 "It is interesting to note that police fines (76.80%) take away most of the cash people withdraw from the banks, followed by domestic workers and facial and hair treatment," the report noted.
IPC also concluded that authorities need to create a conducive environment to allow ordinary people and businesses to take their money for banking.
"No sane person would go and bank $100 cash which they would struggle to get from the bank when they need it. It is that simple," noted the report.
"On alternative forms of payments the authorities would need to double their effort as most people especially the landlords and commuter omnibuses prefer cash for payment of rentals and transport fares.
"Why is this category of service providers not accepting alternative forms of payments? The demand of cash will significantly go down if the authorities can persuade landlords, the police, transport services providers and business in the SME sector to accept other forms of payment. It would seem the problem is not the shortage of payment platforms but resistance and the need to have cash."
If you live in Zimbabwe, how are you coping with this situation?
https://www.colindurrant.co.uk/wp-content/uploads/2017/05/Zimbabwe-bank-queue.jpg
300
400
Colin Durrant
https://www.colindurrant.co.uk/wp-content/uploads/2017/11/gloriosa_rothscildianna.jpg
Colin Durrant
2017-05-08 19:30:58
2018-02-25 19:42:29
$40m lost to bank queues every month in Zimbabwe