SAA Flight to Hong Kong drops out the sky
SAA Flight to Hong Kong drops out the sky
Cape Town – A Zambian national, Miyanda Siamoongwa, flying to Hong Kong on SAA flight SA 286 was terrified when the flight suddenly hit massive turbulence half-way through the 14 hour long haul flight from Johannesburg.
Despite SA 286 being a large Airbus A340-300, the aircraft was tossed around like a toy in the sky and dropped like a stone for several hundred feet before finally gaining stability once again.
During the aircraft's plummet, Siamoongwa watched "an infant literally fly out of the bassinet and being caught by her mother" as it was about to hit the floor.
The drop out the sky caused massive damage to the overhead compartments with people's luggage strewn all over the aircraft.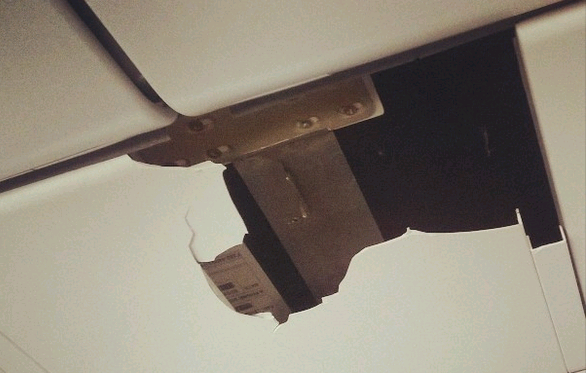 According to reports, one passenger who did not have his safety belt on was severely injured when his head hit the cabin roof causing damage to himself and the cabin roof itself.
The sudden turbulence left a scene of devastation and destruction with luggage everywhere, toilets destroyed and a lot of passengers with serious neck and spinal injuries.
Miyanda said "The cabin crew were looking pretty shaken and I overheard a supervisor tell an injured guy in front of me that, in all her years of flying, she's not encountered turbulence on this scale"
The Captain of the SAA flight apologised to everyone on-board but did point out it was not possible to predict the severe turbulence they had just encountered.
SA 286 was declared an emergency and given priority landing in Honk Kong due to the extensive damage to the aircraft and numerous injuries to it's passengers.
As soon as the aircraft landed, fire crews and ambulances rushed over to meet the stricken plane. A number of make shift beds where setup in close proximity to deal with the injured passengers.
SAA spokesperson Tlali Tlali, reported 20 passengers were injured (17 passengers and 3 crew members); two of which were serious and were taken to the Prince Margaret Hospital and the North Lantau Hospital in Hong Kong" They have since been discharged.
The SA 286 flight experienced a severe case of Clear-Air Turbulence (CAT) On board weather Doppler radar systems are able to identify weather patterns and alert operators to the severity of clouds.
CAT is usually impossible to detect and even more difficult for aircraft pilots to avoid.
Research indicates that CATs could be caused by global warming as high levels of atmospheric carbon dioxide increases susceptibility at jet stream altitude level.
https://www.colindurrant.co.uk/wp-content/uploads/2017/11/gloriosa_rothscildianna.jpg
0
0
Colin Durrant
https://www.colindurrant.co.uk/wp-content/uploads/2017/11/gloriosa_rothscildianna.jpg
Colin Durrant
2014-07-17 07:55:25
2015-01-16 20:09:25
SAA Flight to Hong Kong drops out the sky