Wonga – Police Investigation
Here is a snap shot of an article in the weekend FT. I have been watching the wonga adverts and thinking how unethical it is that a company can prey on the weak and desperate to make themselves a ridiculous fortune and then in the process get recognised as an amazingly successful company that muppets look up to.
How is it ethical and moral that a company can charge up to 2000% APR to people who are struggling beyond our recognition and understanding. Struggling to feed themselves and their family and all they get is preyed on like weak, insignificant rats in a sewer.
Their lack of knowledge and desperation means they see a way out via wonga but only get deeper into debit and due to the massive interest rate take even longer to get out of debit. I was talking to a friend yesterday who has an overdraft with their bank. They are the bank's perfect customer. They get charged for the privilege of having an over draft every month. They get charged a fee for being in their overdraft every month and they get charged a high interest rate. Win, win, win for the bank, loose, loose, loose for the customer. Awesome…
I guess it comes back to Charles Darwin. Survival of the fittest, the strongest. The weak will die and fall by the wayside.
Looking at Barclay's Bank in the news. Pushing the boundaries of being ethical if they can all agree via alleged emails. What drives mankind today? What drives us to be successful? Is it possible to be successful via ethical and moral means or do we have to eat and devour the weak to be successful ourselves? Let me know as while this is simply not in my nature, I may have to try and evolve into a man eater?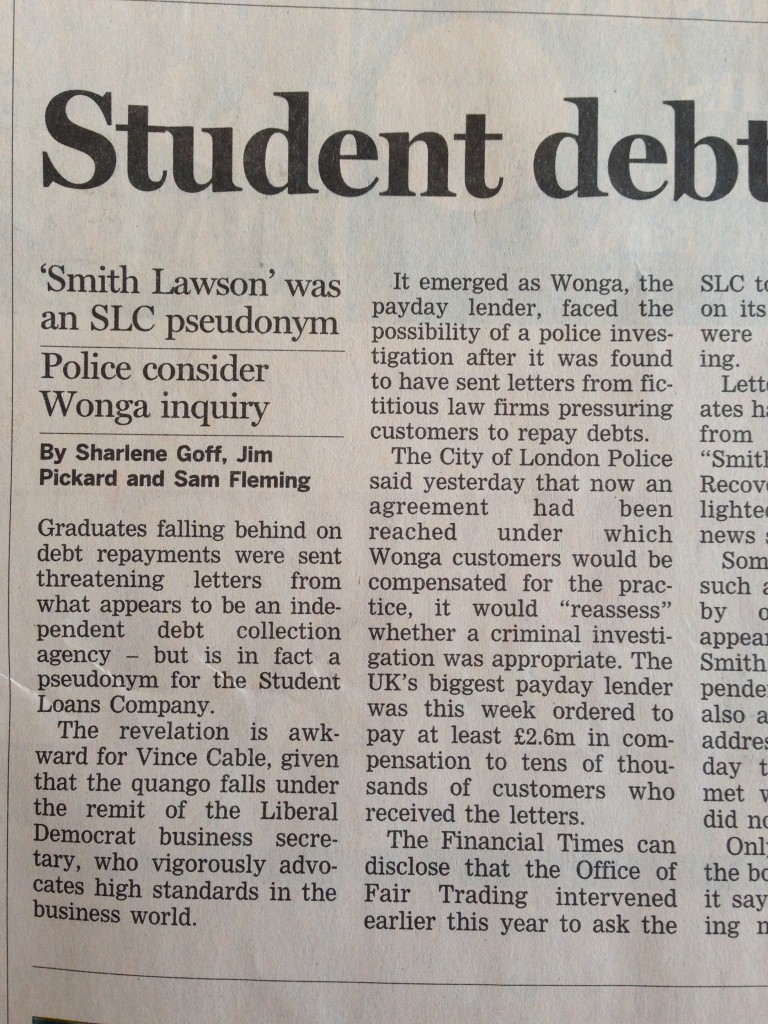 In addition to the above: How on earth does Wonga manage to register Student Loans as a brand? I can't get my head round how something that student's take advantage of world wide is actually some kind of brand for a company. Anyone care to explain this one to me?
Essentially Wonga sent out thousands of letters to Students from fake law companies telling them they were in serious trouble for not keeping up with their payments. I can only envisage the decision made at a wonga board meeting where they decide to simply make up law firm names and threaten people rather than pay a small fortune to said organisations to issue official letters to their customers.
I suspect that if the heat continues, Wonga will simply change name and continue trading under a different brand as they search for the loop holes in the system to push the boundaries of ethics and morals to make themselves enough cash for lots of bubbly at the end of year party?
Top New York securities regulator sues Barclays over 'dark pool'
New York's top securities regulator has sued Barclay's for favouring high-speed traders using its "dark pool" trading venue while misleading institutional investors.
Dark pools allow investors to trade large blocks of shares anonymously, with prices posted publicly only after deals are done. They were created as a way for institutional investors to place large orders without actually effecting the overall share price and thereby disadvantaging themselves.
https://www.colindurrant.co.uk/wp-content/uploads/2017/11/gloriosa_rothscildianna.jpg
0
0
Colin Durrant
https://www.colindurrant.co.uk/wp-content/uploads/2017/11/gloriosa_rothscildianna.jpg
Colin Durrant
2014-06-30 08:44:20
2015-01-16 20:15:02
Wonga – Police Investigation