Flight QZ8501, an Airbus A320-200 lost contact with air traffic control at 06:24 local time (23:24 GMT Saturday) over the Java Sea.
After flying for more than an hour, the Airbus disappeared midway into it's two hour flight from Surabaya without a distress call. The pilot had requested a flight path change after bad weather was reported in the area. It appears that an air search operation has now been suspended for the night.
Since the disappearance, aircraft from Indonesia and Singapore had been scouring an area of sea between Kalimantan (Borneo) and Java. Despite the air search being called off, some boats are said to be continuing to search despite nightfall.
A few hours ago many of the relatives at the crisis centre in the airport still seemed calm – staring hopefully at their phones, trying to find the latest news of the missing flight as well as keeping friends and relatives up to date with any developments and trying to find comfort in the face of yet another impending disaster.
However, after more than 12 hours since the plane took off on it's two hour flight, they are looking increasingly worried. Officials still have no idea what happened to the aircraft. The governor of East Java, Soekarwo, the mayor of Surabaya, Tri Rismaharini, and the chief executive of AirAsia, Tony Fernandes, have come to talk to the relatives at their airport to confirm they are frantically searching for the missing Flight QZ8501 however apart from this, there is no other information been given.
Airport officials are keeping everyone well away from the media and trying to make them comfortable.
The scenes at Changi are reminiscent of those in Kuala Lumpur immediately after MH370 went missing back in March 2014: anxious friends and relatives waiting for a glimmer of hope or simply just an answer.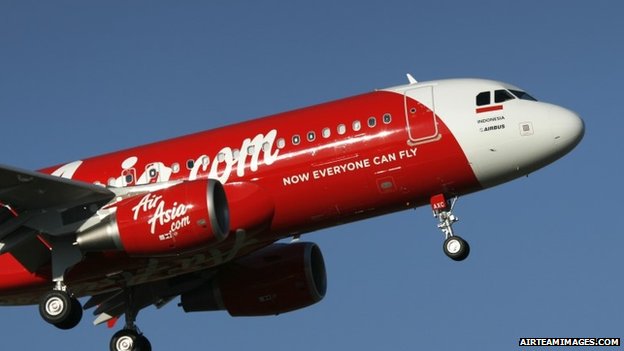 The experienced captain of Flight QZ8501 had more than 20,500 flight hours, almost 7,000 of them with AirAsia.
The flight left Surabaya in eastern Java at 05:35 local time (22:35 GMT) and was due to arrive in Singapore at 08:30 (00:30 GMT).
AirAsia confirmed that the missing AirBus had requested a "deviation" from the flight path to avoid thick storm clouds.
Indonesia's transport ministry said the pilot had asked permission to climb to 11,000m to avoid the storm however, Ministry official Djoko Murjatmodjo said the request "could not be approved at that time due to traffic, there was a flight above, and five minutes later [flight QZ8501] disappeared from radar".
It is looking decidedly like the plan has gone down due to bad weather but we await for further news and can only hope cling to a small hope that the plane has landed.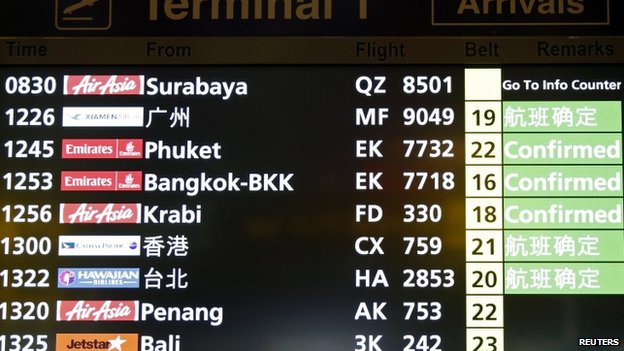 Latest:
The missing AirAsia Indonesia flight QZ8501 is likely to be at the bottom of the sea, Bambang Soelistyo, the head of Indonesia's search-and-rescue agency has said based on the location of the flight when they lost contact with it.
The search for the Airbus A320-200, which disappeared with 162 people on board on Sunday on a flight to Singapore from Surabaya City, has ended for a second day.
The search area will be widened on Tuesday.
………………………………
This has been an extremely tough year for aviation in Asia: Malaysia's national carrier Malaysia Airlines brutally suffered two losses with flights MH370 and MH17.
Flight MH370 disappeared without a trace while on a flight path from Kuala Lumpur to Beijing in March with 239 passengers and crew. There is speculation that the wreckage is thought to be in southern Indian Ocean but it has has still not been located.
Meanwhile, we all remember the ill-fated Malaysia Airlines MH17 that was tragically shot down over Ukraine in July, killing all 298 on board.
https://www.colindurrant.co.uk/wp-content/uploads/2017/11/gloriosa_rothscildianna.jpg
0
0
Colin Durrant
https://www.colindurrant.co.uk/wp-content/uploads/2017/11/gloriosa_rothscildianna.jpg
Colin Durrant
2014-12-29 15:34:57
2015-01-16 19:34:57
AirAsia Indonesia flight 8501 to Singapore missing