'Girl bomber' kills 19 people in Maiduguri market
Nineteen people have been killed and several more injured by a bomb strapped to a girl who was apparently only 10 years old in north-eastern Nigeria.
The bomb exploded in a market in the city of Maiduguri.
"The explosive devices were wrapped around her body," a police source told Reuters.
So far, the market has been targeted twice in a week by female bombers. Local correspondents indicated that all the signs of the attack point to the militant Islamist Boko Haram group.
Boko Haram have been fighting to establish an Islamic caliphate in the Nigerian north-eastern states of Borno, Yobe and Adamawa.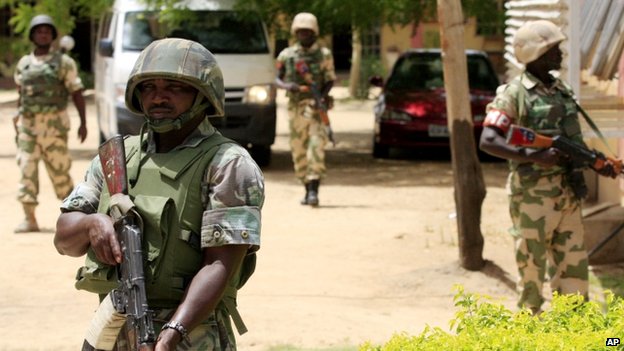 The recent bomb attack follows heavy fighting in the Yobe state capital Damaturu on Friday night, with a large number of buildings destroyed as well as innocent civilian casualties.
An assault on the town of Baga on Wed left hundreds of people dead, following on their seizure of a key military base there on the 3rd January.
Amnesty International described the attack as possibly the "deadliest massacre" in the history of Boko Haram – with bodies apparently left strewn in the surrounding bush.
Unfortunately most victims in the recent Baga attack were children, women and elderly people unable to escape quickly enough when Boko Haram insurgents raided the town by firing rocket-propelled grenades and using high powered assault rifles.
Boko Haram has forcefully taken control of many towns and villages in north-eastern Nigeria during 2014.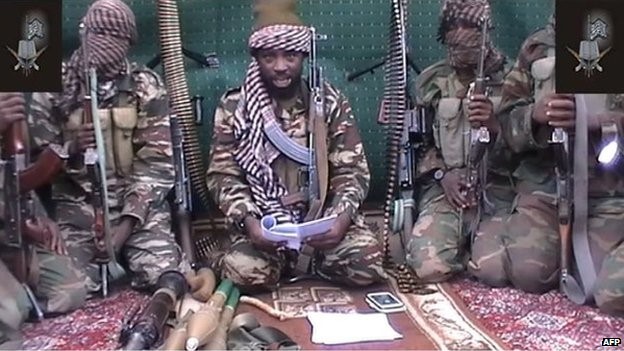 The conflict has forced over 1.5 million people to flee their homes, while more than 2,000 were killed last year.
Borno State police spokesman Gideon Jubrin said that the 10 year old young girl bomber let off an improvised explosive device near the area of the Maiduguri market where chickens were sold. It is also possibly the bomb was remotely detonated.
The BBC's Abdulahi Kaura correspondent in Lagos said that this will not be the first suicide bombing involving young girls, part of a new strategy intended to capitalise on the fact that people in the Muslim-dominated north are less suspicious of women.
This could have massive and far reaching repercussions in the entire world as muslim woman will come under significantly more scrutiny especially with the traditional burka.
In further violence reported on Saturday a vehicle in Yobe state exploded at a checkpoint near a police station, killing at least two people.
Female Suicide Bombers
Nigeria's militant Islamist group Boko Haram is accused of unleashing a new weapon of war – the female suicide bomber, fuelling concern that its insurgency has entered a more ruthless phase.
4 teenage girls carried out attacks in the biggest northern city, Kano, last week, which has led to speculation that Boko Haram had turned some of the 200 schoolgirls abducted in April 2014 into human bombs.
Mike Omeri, a government official said the security forces had arrested three people in neighbouring Katsina state – including two girls aged 10 and 18 – with explosive belts strapped around them.
The new strategy kicked off last June with Nigeria's first female bomber – a middle-aged woman who rode a motorcycle into a military barracks in the north-eastern city of Gombe. She killed a soldier who was searching her at the checkpoint and she detonated her device.
"To use female suicide bombers is the most dramatic strategy that an organisation can use. It becomes easier to penetrate targets because we are less suspicious about women," Martin Ewi, a researcher with South Africa's Institute for Security Studies (ISS), told the BBC.
When you have female suicide bombers, the security challenge becomes bigger – it means you need female officers at every check-point to search women"
"It also shows desperation – and tends to be the last card that an organisation plays. But we don't know whether Boko Haram has reached that stage, or whether it has decided to play the card early," he adds.
Boko Haram violence is over its negotiations with the Nigerian Government to get their commanders released in exchange for the freedom of the abducted schoolgirls they took back in April.
Boko Haram has now carried out 11 suicide bombings – by men and women – since launching its insurgency in 2009, which indicates they're copying the tactics of jihadi groups in other war torn, muslim based countries.
5 Recent suicide bomber attacks
8 June: A woman rides into a military barracks in Gombe on a motorbike, she detonates an explosive killing herself and a policeman
27 July: A young girl with an explosive device concealed under her veil blows herself up injuring five police officers at a university campus in Kano,
28 July: A young woman lines up in a kerosene queue at a filling station in Kano. She kills 3 people and wounds 16 others after detonating her bomb.
28 July: Six people are injured after a young woman detonates her bomb at a shopping centre in Kano
30 July: Another six people are killed when a teenager blows herself up in a crowd of students at a college campus in Kano.
https://www.colindurrant.co.uk/wp-content/uploads/2017/11/gloriosa_rothscildianna.jpg
0
0
Colin Durrant
https://www.colindurrant.co.uk/wp-content/uploads/2017/11/gloriosa_rothscildianna.jpg
Colin Durrant
2015-01-11 11:19:02
2015-01-16 19:31:41
'Girl bomber' kills 19 people in Maiduguri market