Axelle Despiegelaere, World Cup Model, kills Oryx
L'Oreal, who only recently signed a contract with 17-year-old World Cup fan Axelle Despiegelaere, has now terminated the contract. Photos of the attractive teen cheering Belgium in the World Cup 2014 went viral.
However, Axelle's undoing was recently posting a proud photo of herself to Facebook in which she is holding a rifle, proudly sitting behind what appears to be a dead oryx she shot while hunting.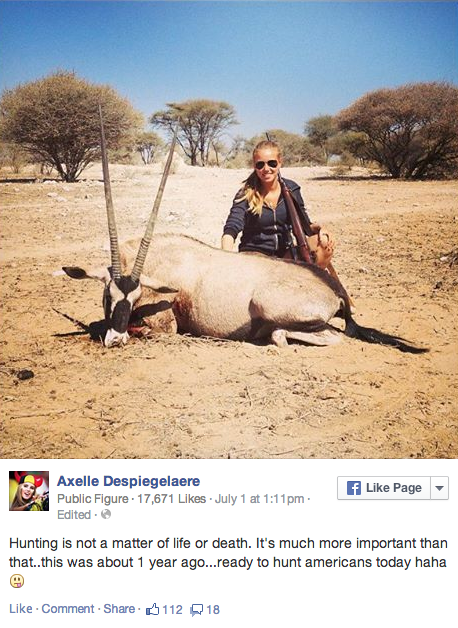 The caption, in reference to the World Cup match, read: "Hunting is not a matter of life or death. It's much more important than that..this was about 1 year ago…ready to hunt Americans today haha."
Axelle subsequently apologized in the comments section of her post after getting heated responses from fans, saying "i didn't mean to offend anyone..it was a joke."
However, it was too late for L'Oreal who failed to see the funny side who informed The Independant that Axelle's contract has been "completed."
"L'Oréal Professionnel Belgium collaborated with her on an ad hoc basis to produce a video for social media use in Belgium," said a representative. "The contract has now been completed."
The announcement came soon after fans took to social media to express their outrage that L'Oreal would be affiliated with Axelle after her controversial post.
I am not sure if the controversy relates to the shooting of a beautiful, innocent animal or her comment regarding hunting Americans. Personally, I and many of my African colleagues will be more offended and disgusted by the killing of the animal.
Interestingly, while L'Oreal is aware of the photograph, it would not comment on whether it was the specific reason behind the decision to cut the model's contract.
That said, the representative did point out that L'Oréal "no longer tests on animals, anywhere in the world, and does not delegate this task to others."
Indeed, in 2012 alone, the beauty giant donated $1.2 million to the U.S. Environmental Protection Agency to help improve the testing of safe chemicals. Perhaps this implies it was the shooting that offended them the most?
Upon arriving home to Belgium after becoming the World Cup Model, Axelle posted to Facebook that she had "Made my decision..signed my contract with L'Oreal!"
It would appear L'Oreal also made their decision and unsigned their copy.
https://www.colindurrant.co.uk/wp-content/uploads/2017/11/gloriosa_rothscildianna.jpg
0
0
Colin Durrant
https://www.colindurrant.co.uk/wp-content/uploads/2017/11/gloriosa_rothscildianna.jpg
Colin Durrant
2014-07-14 15:46:52
2015-01-16 20:10:36
Axelle Despiegelaere, World Cup Model, kills Oryx